If you are looking to build a retaining wall this year, hiring block wall builders in Kelowna like Fuller's is the right way to go. Their expertise and various kinds of equipment make building retaining walls easy. Starting a retaining wall project with little to no experience can bring on a high risk of injury. This is because of the high-stress retaining wall labour puts on your body. At Fuller's, we have special tools and equipment to get the job done fast and cost-effectively. Learn more about what equipment our block wall builders in Kelowna use below!
Equipment Used By Fuller's Block Wall Builders in Kelowna: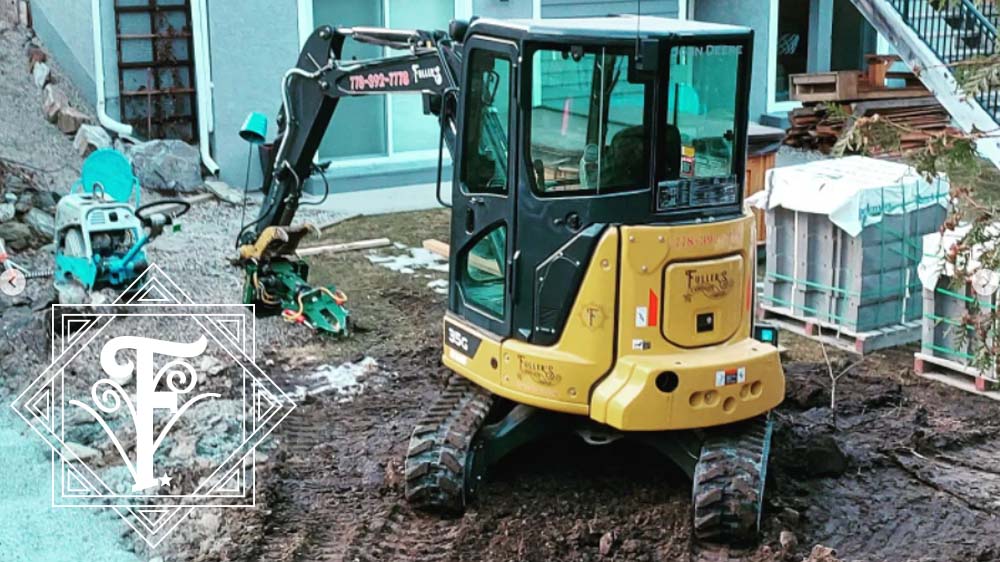 At Fuller's, our retaining wall builders use a special tool called The Savior. This unique piece of equipment is used to safely place retaining wall blocks. The Savior is a block grapple attachment that can be applied to any skid steer, crane, loader, or excavator. In addition, The Savior helps cut manual labour costs, speeds up production, and reduces workplace injuries. Thus, making your project cost less and get finished quicker.
The Savior has a whopping 800lbs lift capacity and pivot pad on the backside for increased range of motion. It also has an adjustable 10-speed setting and can lift almost all segmental retaining wall blocks. Furthermore, the attachment itself weighs roughly 250lbs and can be customized to suit every job's needs. Additionally, this equipment is able to be operated in any kind of weather condition. Whereas, your average worker may not. The Savior completes all of the heavy lifting so that other employees can carry out different tasks for maximum efficiency.
We can't get enough of The Savior. We use it for every block wall we build in Kelowna to help us become more efficient and save everyone's back for another day!
Follow the link for more information about other landscaping equipment used by block wall builders like Fuller's in Kelowna. To receive a quote on your latest project or find out more about our services, contact us today. We'd be happy to help you get started on this year's landscaping goals. Feel free to reach out with any questions or concerns that you may have. We look forward to working with you in the near future!